If you're a coffee enthusiast who appreciates the rich and creamy texture of a perfectly frothed milk, then the Latteo Milk Frother is a must-have addition to your coffee corner. This innovative device takes your coffee experience to a whole new level, allowing you to create barista-quality frothed milk right in the comfort of your own home. Whether you're a fan of lattes, cappuccinos, or hot chocolates, the Latteo Milk Frother will elevate your beverage game to new heights.
One of the standout features of the
Latteo Milk Frother
is its simplicity and ease of use. With just a few simple steps, you can transform cold or warm milk into a velvety froth that's perfect for topping off your favorite coffee creations. The frother consists of a glass carafe with a plunger and a mesh screen, making it incredibly convenient to operate. All you need to do is pour the desired amount of milk into the carafe, plunge the mesh screen up and down a few times, and voila! Within seconds, you'll have a smooth and creamy froth that's ready to be added to your coffee.
Another great advantage of the Latteo Milk Frother is its versatility. Whether you prefer dairy milk or non-dairy alternatives like almond or soy milk, this frother can handle it all. It can froth any type of milk, giving you the freedom to experiment with different flavors and textures. Say goodbye to spending extra money on expensive coffee shop beverages when you can create your own customized frothed milk at home.
Not only does the Latteo Milk Frother deliver exceptional results, but it also adds a touch of elegance to your coffee corner. The glass carafe not only looks sleek and stylish but also allows you to monitor the frothing process. The plunger is ergonomically designed, ensuring a comfortable grip and effortless operation. It's a functional and aesthetically pleasing addition to any kitchen countertop.
Cleaning the Latteo Milk Frother is a breeze as well. The carafe and the plunger can be easily disassembled and are dishwasher safe, making maintenance a hassle-free experience. No more scrubbing or complicated cleaning rituals—just enjoy your frothed milk and let the dishwasher take care of the rest.
Whether you're a coffee connoisseur or a casual drinker, the Latteo Milk Frother is a game-changer for your coffee corner. It offers convenience, versatility, and the ability to create professional-grade frothed milk in the comfort of your home. Indulge in lattes, cappuccinos, and hot chocolates that rival those from your favorite café. The Latteo Milk Frother empowers you to become your own barista and allows you to elevate your coffee experience to a whole new level.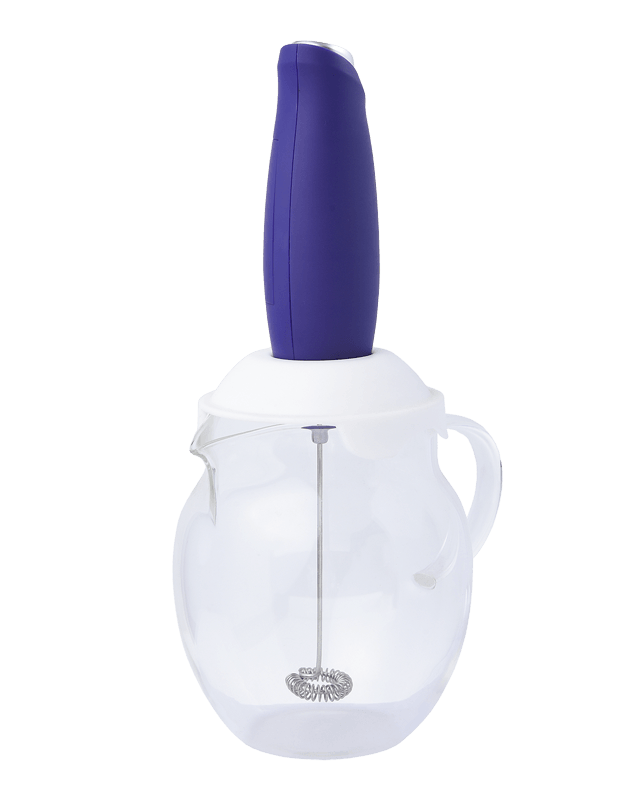 Certification
CE  ROHS  LFGB  FDA
Material
304 Stainless steel + ABS
Color
Any colors can be done as custom
Application
Frothing milk, Whisking coffee or beverages, Beating eggs
Features
Ergonomic handle, Soft touch, Food grade, Powerful, Noiseless, Long life