For coffee lovers, a good cup of coffee is all about the perfect blend of coffee and milk foam. Making the perfect milk froth is not an easy task, especially when you are doing it manually. However, with the advent of electric handle milk frothers, the process of frothing milk has become simpler and better than ever before.
An electric handle milk frother is a small and handy device that helps you to froth milk with ease. It comes with a handle that is easy to grip and operate. Unlike traditional milk frothers, electric handle milk frothers are battery operated and require minor effort to work.
With an electric handle milk frother, you can froth your milk within seconds, and it is ready to be poured into your cup of coffee. The device is designed with a small whisk attached to its end, which is responsible for frothing milk. The whisk spins at high speed and creates a thick and creamy milk froth in no time.
Another fantastic feature of an electric handle milk frother is that it is versatile and can be used to froth different types of milk. You can use it to froth cow's milk, almond milk, soy milk, and other milk alternatives.
The
electric handle milk frother
is also easy to clean. With its detachable whisk, you can easily rinse it under running water. However, it is essential to avoid immersing the handle in water as it is not waterproof. You can clean the handle with a damp cloth and mild detergent.
These milk frothers come in various sizes and shapes to fit different needs. Some are small and portable, which makes them ideal for individual use, while others are larger and are ideal for commercial use. The device is also available in different colors, allowing you to choose one that matches your kitchen decor.
Electric handle milk frothers are not only easy to use and clean, but they are also affordable. You do not have to break the bank to get one of these devices. It is an excellent investment that will save you time and energy in the long run.
Using an electric handle milk frother is the perfect way to add that professional touch to your cup of coffee. It is an excellent addition to your home kitchen, and it makes a perfect gift for coffee lovers.
In conclusion, investing in an electric handle milk frother is a wise decision. It makes frothing milk a simple and easy task, allowing you to create the perfect cup of coffee with ease. Moreover, it's affordable and easy to use and maintain. Get yourself an electric handle milk frother today and enjoy the perfect cup of coffee.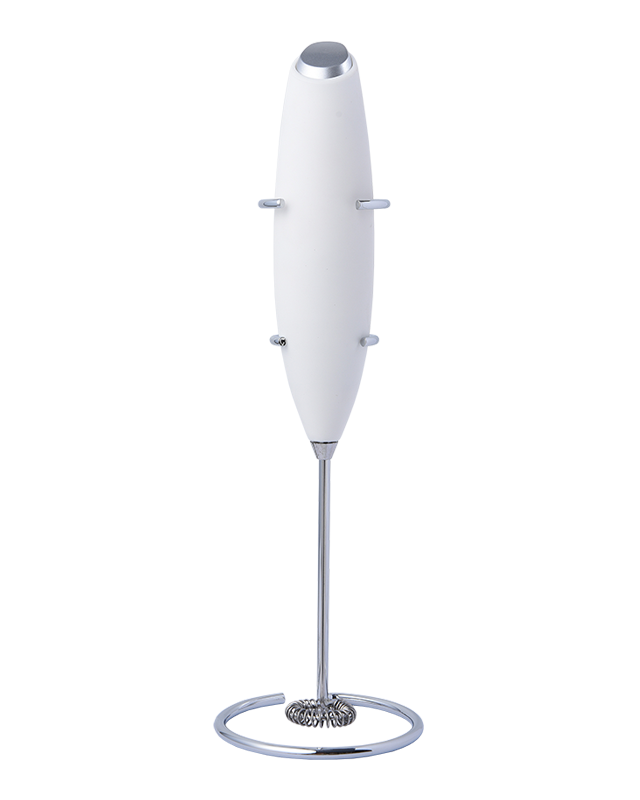 Certification : CE  ROHS  LFGB  FDA
Voltage : DC 3V
Material : 304 Stainless steel + ABS
Color : Any colors can be done as custom
Product weight : 102g
Housing : Plastic ABS
Rated Power : 2W
Application : Frothing milk, Whisking coffee or beverages, Beating eggs
Features : Ergonomic handle, Soft touch, Food grade, Powerful, Noiseless, Long life