For many coffee enthusiasts, a perfectly frothed milk is the secret ingredient that takes a cup of coffee to new heights of delight. Whether it's a velvety cappuccino or a rich latte, the texture and consistency of the milk foam can make all the difference. Enter the Latteo Milk Frother, a revolutionary device that brings the café experience right into your kitchen.
Superior Frothing Technology
The
Latteo Milk Frother
boasts superior frothing technology that ensures a consistently perfect froth with minimal effort. Equipped with a powerful motor and a specially designed whisk, it creates an indulgent foam in seconds. The whisk spins rapidly, creating tiny bubbles that give the milk its smooth and creamy texture. The frother is also adjustable, allowing you to control the level of frothiness according to your preference.
Versatility at Your Fingertips
One of the standout features of the Latteo Milk Frother is its versatility. It can froth not only regular milk but also non-dairy alternatives such as soy, almond, or oat milk. This is excellent news for those who follow specific dietary restrictions or have lactose intolerance. Now, everyone can enjoy their favorite coffee creations with a frothy milk finish, regardless of their dietary preferences.
User-Friendly Design
The Latteo Milk Frother's design is sleek and user-friendly, making it a breeze to use and clean. Its ergonomic handle ensures a comfortable grip, while the transparent lid allows you to monitor the frothing process. The frother is also cordless, eliminating any hassle with wires or outlets. Simply add your milk of choice, press a button, and watch in amazement as the Latteo creates a cloud-like froth before your eyes. Cleaning is equally effortless, as the frother's parts can be easily disassembled and rinsed.
Indulge in Café-Quality Beverages at Home
With the Latteo Milk Frother, you can transform your home into a coffee haven. Say goodbye to mediocre coffee shop visits and embrace the joy of creating your own café-quality beverages. Imagine waking up to the aroma of freshly brewed coffee, topped with a heavenly layer of frothed milk. Whether you're craving a classic cappuccino, a luxurious latte, or even a hot chocolate with a frothy twist, the Latteo Milk Frother allows you to experiment and unleash your inner barista.
The Latteo Milk Frother is a true game-changer for coffee enthusiasts seeking the perfect frothed milk. Its advanced frothing technology, versatility, user-friendly design, and cost-effectiveness make it a must-have appliance in any coffee lover's kitchen. Experience the joy of indulging in café-quality beverages at home and unleash your creativity with a frother that guarantees delightful results every time. Upgrade your coffee routine and let the Latteo Milk Frother become your secret weapon for deliciously frothy milk.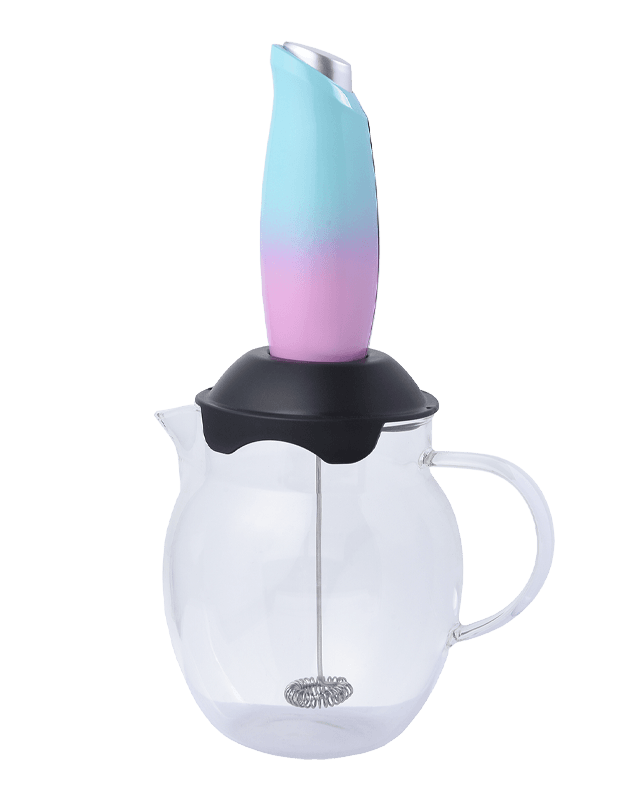 Certification
CE  ROHS  LFGB  FDA
Material
304 Stainless steel + ABS
Color
Any colors can be done as custom
Application
Frothing milk, Whisking coffee or beverages, Beating eggs
Features
Ergonomic handle, Soft touch, Food grade, Powerful, Noiseless, Long life